Cheap and effective way to manage your company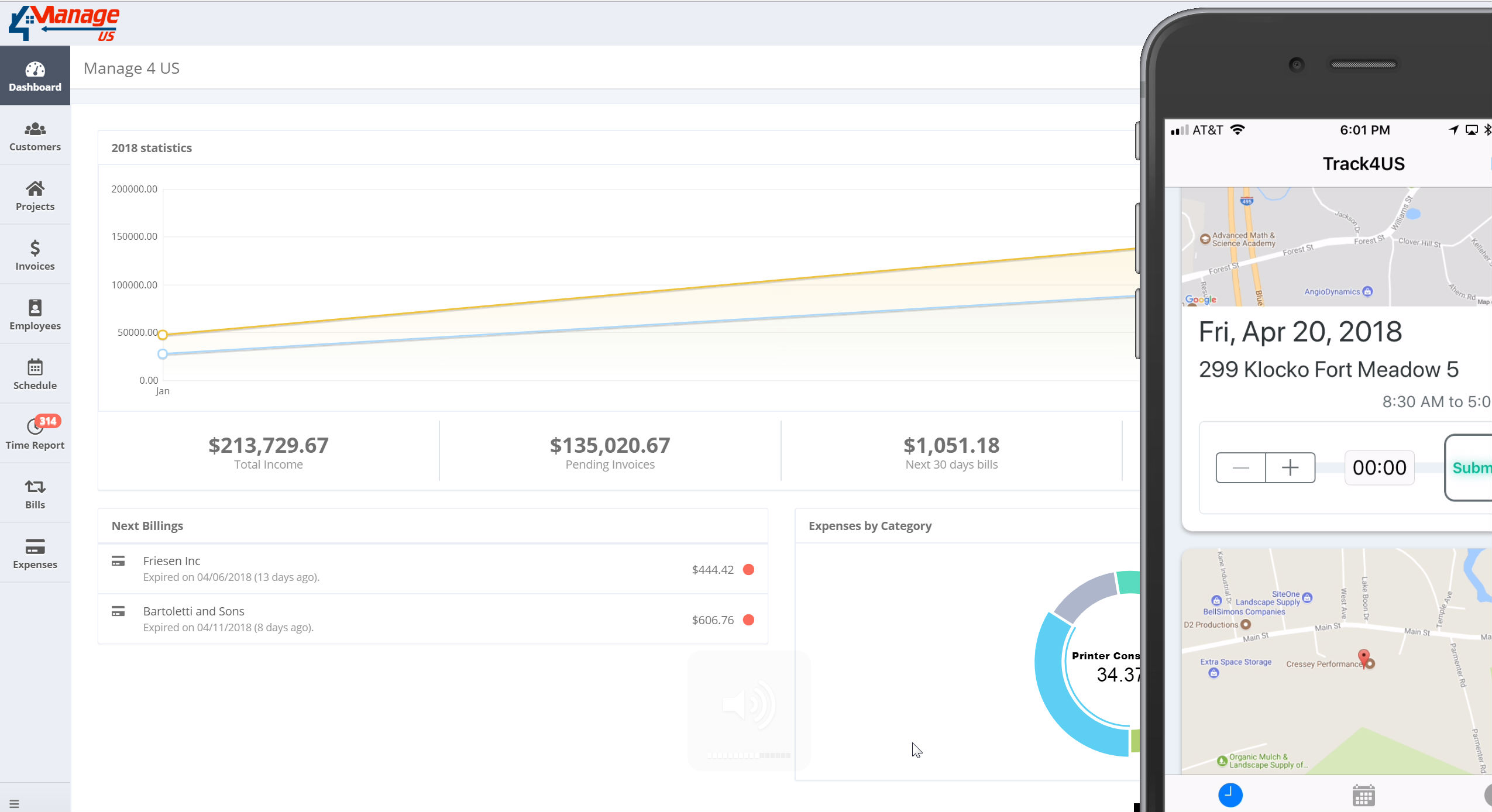 How much time do you spend manually tracking worked hours, creating invoices and estimates? Save time and impress your customer with customized documents and high level of management.
Click on the WhatsApp button and let us show you how much money you can save using Manage4US.
What we can do for your company

Track4 US
Your employes can send their daily hours every day with just a tap. You can customize the Punch, Fence and Break types Learn More

Payroll hours
Manage your employees schedule! Hours are automatically calculated using their rate and times from Track4US

Project Management
Create estimates, manage when a project starts, payments and even cost! You can manage payments to your subcontractors as well

Invoicing
Send invoices to your customer directly to their email. Manage invoices sent, open and paid.

Notifications
Be notified if an employee didn't show up or is late. With more than 10 types of notifications, be proactive and avoid customer's complaints

Customizable
Invoices, Estimates and emails are customizable. Add our own logo and color to impress your customer
Full overview of your projects
Manage4US gives you full overview of your projects. You'll be able to:
a) Manage your Payments by controlling received and pending invoices.
b) Create Estimates and move them into Projects. Create new Project Types and assign projects to them. Ex.: On Hold
c) Understand your costs: System combines the cost of Labor, Expenses and payment to Subcontractors and gives you a percentage of what they represent.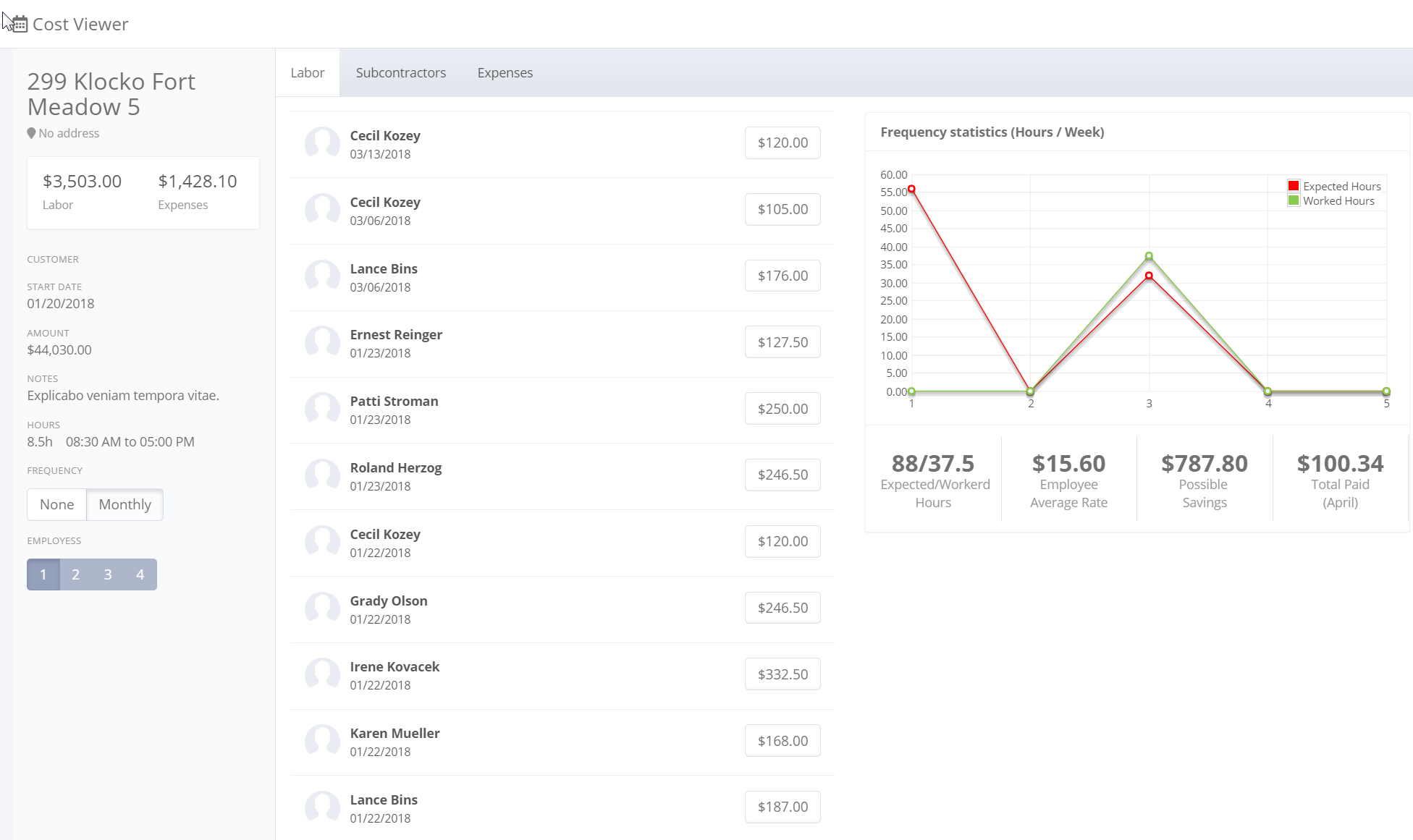 Schedule and Hours of work
Manage4US allows you to make your daily schedule in a very easy and simple way. Assign jobs to your employees and let them punch their hours daily.
Projects can be customized in many different ways. Allow your employees to Punch In and Out, Punch Out only or Punch Total Hours Only. You can also strict Punches only when employees are in a radius of their assigned job
Track4US sends push notifications when it's time to Punch In or Out. It also allows your employees to check their hours and contact your company if necessary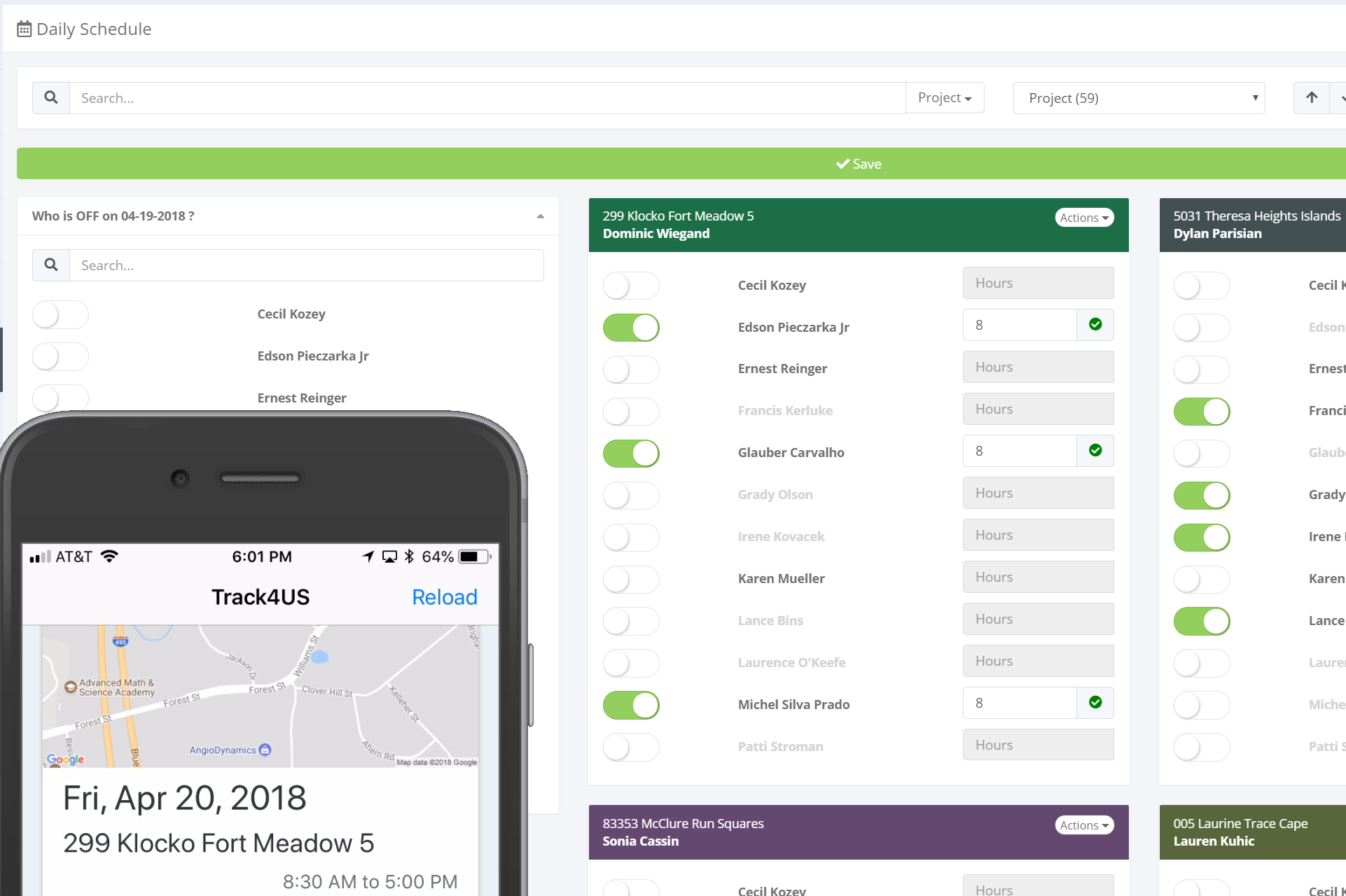 If your company is struggling to stay in business, there's a good chance you're spending too much time doing paper work. With

Manage4US,

I was able to not just save time and focus on getting new customers but also save money by making better decisions about my schedules.
---
Marcelo Silva,
Owner of MGE Construction Corp
Designed to be simple
Manage4US doesn't have dozens of features and configurations. It has a clean and easy design not overwhelming you with configs and options you don't need.
All screens were thought to save you time and go direct to the point. Create customers, projects and estimates in seconds and let Manage4US tell you only the numbers you need.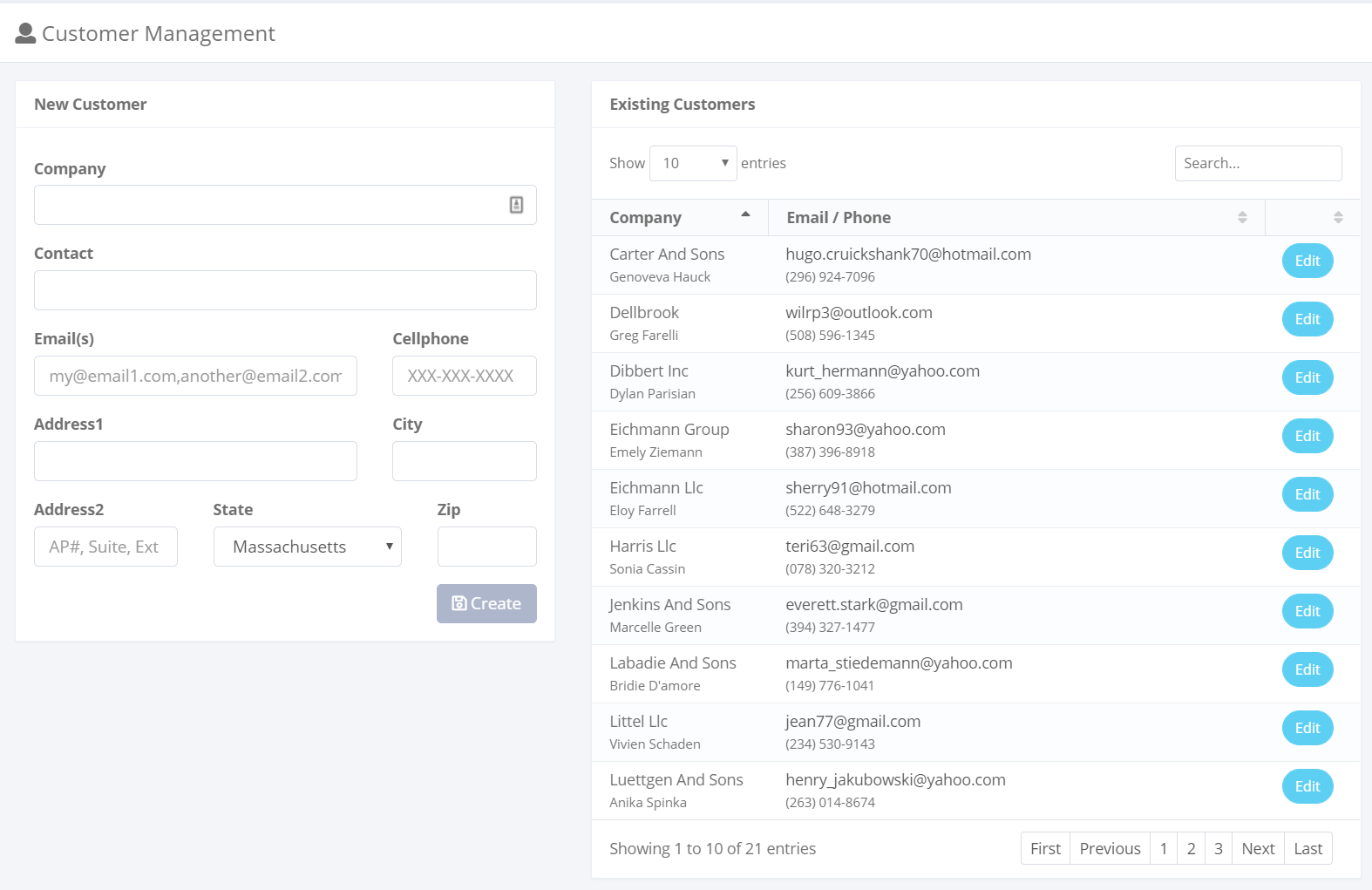 Additional reasons to choose Manage4US
We answer your
questions
Not sure how this application can help you? Let's help you on your decision.
Here are the answers to some of the most common questions we hear from our customers
What is included in my subscription?

Everything. All features and access to Track4US are included

What is the typical response time for a support question?

When sending an email to support@manage4.us, we will get in touch no longer than 1 hour.

Do I need to pay to download Track4US?

No, the app is available on Apple Store and is free of charge

Can I suggest a new feature?

Definitely Yes, you can contact us to let us know your needs. Suggestions will be analyzed and might be added to the system. Not all suggestion are going to be accepted.